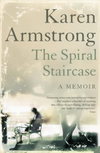 The spiral staircase is a memoir by Karen Armstrong, in which she describes her life after the age of almost 24 when she left the Roman Catholic Church where she was practicing to be a nun. She begins the narration with an account of her final days spent in the church. To be more precise she begins from February 1969. At the time of her departure from her religious life, Karen was half-way through her undergraduate studies from Oxford University. She had been living in the church for the last seven years cut-off from the rest of the world. In the first chapter of her book, she has expressed in great detail how her seven year's experience was affecting her life outside. After completing her graduation she left convent as well and started living at a room given by Jennifer Hart, a tutor at St.Anne's. Jennifer had given her this room to live in on the condition that she would baby-sit her son for short durations during the week. Her son was suffering from epilepsy that had affected his arms and legs and caused violent fits at times. Gradually Karen herself started feeling terribly sick. She started to have periods of forgetfulness after which she would be unable to recall where she had been and what she had been doing in this duration. This her psychiatrist ignored as part of absent-mindedness until in one such period she took a large number of sleeping pills. Actually she was suffering from temporal lobe epilepsy which she was to find out a couple of years later.
In summer of 1973, Karen would come to an end of her government grant. After that she needed some way of earning money. So she applied for a job and got one as tutorial research fellow at Bedford College in the University of London. This was a three-year appointment. After completing her three years at Bradford College, she sent applications for academic posts, but thanks to her failure in her thesis; she did not have any luck in these. So she decided to apply in schools. Here she got the very first job she put in for. In 1981, the headmistress called her and told her she had leave due to her deteriorating health. She gave Karen a year's notice. Now Karen would not be teaching full-time but as a part-time. As you can see Karen was encountering failure after failure. Anyone in her place would have completely broken down by this time. But she had just published her first memoir "Through the narrow gate" and was beginning her route to the television. By 1988, this option also closed for Karen. At this point, when she had just done a documentary series on Paul of Tarsus and Jesus of Nazareth, she had developed an interest in all three religions: Islam, Christianity, and Judaism. Here she began her writing career. Going through this book one can see that where there is will there is always a way. If Karen hadn't had determination she would never have been able to adjust in the society after her return from the convent.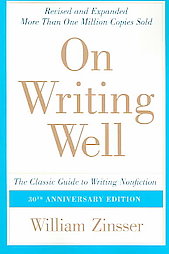 There are all kinds of writings and all kinds of methods. Some people write by day, others by night. Some people need silence, others turn on the radio. Some write by hand and others by computer. It is the personal transaction that is at the heart of good nonfiction writing. Good writing has an aliveness that keeps the reader reading from one paragraph to the next. The secret of good writing is to strip every sentence to its cleanest components. The key is to clear the clutter. To recognize clutter at a glance – put brackets around every component in a piece of writing that wasn't doing useful work. Most drafts can be cut by 50 percent without losing any information or losing the author's voice. The reader has an attention span of 30 seconds. If he has to concentrate on the writing for more than this he will give up the article and go for something else. Thinking clearly is a conscious act that writers must force on themselves. Good writing does not come naturally. The leading and ending are the most important parts of any article. The most important sentence of an article is the first one. It is supposed to induce the reader to read the next sentence and so on until the reader is hooked. This can take up a few paragraphs or even a couple of pages depending on the audience you are writing for. The key here is to keep the reader inquisitive. The perfect ending should take your readers slightly by surprise and yet seem exactly right. For the ending, what usually works best is a quotation. Describing some of the key points of good writing, William states that:
Every writer has his own style.
The writing should be simple. You have to strip your writing down before you can build it back up. A fundamental rule is: be yourself.
There should be unity in whatever you write. This includes unity of tense, unity of pronoun and unity of mood.
Trust your material and write on the topic of your interest.
After a comprehensive detail of these points, he moves on to discuss various forms of writing such as writing about people, about places, about yourself, on science and technology, on sports, on arts, and on business writing. In addition to these topics, William has introduced a complete chapter on writing family history and memoir.

This is the story of the writer, Betty Mahmoody, an American. Betty lived with her four-year-old daughter, Mahtob, and husband Dr. Sayyed Bozorg, an Iranian.
Betty went to Iran with her family for a vacation of two weeks. However, once in Iran, her husband changed his plans deciding to live in Iran forever and forcing Betty and Mahtob to live with him.
In this book Betty has described in great detail the living conditions of people in Iran, the attitude of the Iranian people towards the Americans and tortures that she had to endure during her stay there. She tried to arrange an escape. Evading her husband's sinister spy network, she secretly met empathizers. But every scheme that was suggested to her meant leaving Mahtob behind forever. This was something that was not ready to do. Eventually, she was given the name of a man who would plan their perilous route out of Iran, a journey that few women or children had ever made. Going through this episode she proved that "Where there is will, there is a way".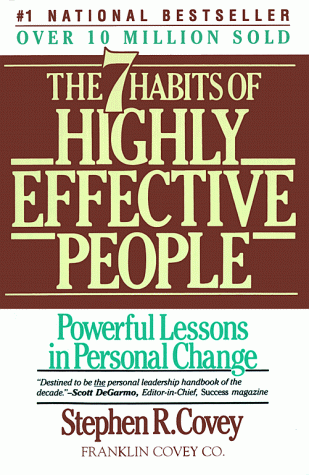 "Sow a thought, reap an action; sow an action, reap a habit; sow a habit, reap a character; sow a character, reap a destiny" the maxim goes.
A habit is defined as the intersection of knowledge, skill and desire. Knowledge is the theoretical paradigm, the what to do and the why. Skill is the how to do. And desire is the motivation, the want to do. In order to make something a habit in our lives, we have to have all three.
The seven habits described in this book are not a set of separate formulas. In harmony with the natural laws of growth, they provide an incremental, sequential, highly integrated approach to the development of personal and interpersonal effectiveness. They move us progressively on a maturity continuum from dependence to independence to interdependence. On the maturity continuum, dependence is the paradigm of you – you take care of me; I blame you for the results; you come though for me. Independence is the paradigm of I – I can do it; I am responsible; I can choose. Interdependence is the paradigm of we – we can do it; we can cooperate; we can combine our talents.
The following are the seven habits described in this book:
Be proactive
Begin with the end in mind
Put first things first
Think win/win
Seek first to understand, then to be understood
Synergize
Sharpen the saw
I will not be going into the details of these seven habits because in that case there will be nothing left to be read. But the fact of the matter is that this is a really good book and you must read it.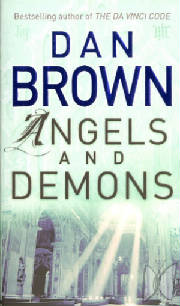 When a nuclear researcher, Leonardo Vetra, is found brutally murdered, a Harvard Professor,Robert Langdon is summoned to identify the mysterious symbol seared onto the dead man's chest. This symbol appears to be the work of the illuminati, a secret brotherhood that existed nearly four hundred years ago. Leanardo had, infact, invented a new matter that if gone into wrong hands could prove dangerous. It was this invention of his that was the cause of his unfortunate death.
In Rome, the college of cardinals assembles to elect a new pope. But somehow the candidates have disappeared.
Langdon joins forces with Vittoria Vetra, Leonardo's daughter, to decipher the labyrinthine trail of ancient symbols that snakes across Rome and ultimately save the vaticans. They have a limited time before the destruction occurs. So, now Langdon and Vittoria have the dual responsibility of saving the vaticans as well as finding the disappeared pope candidates.